INTRODUCING
AmeriLINK® Life$tyles(SM) Database: 99,000,000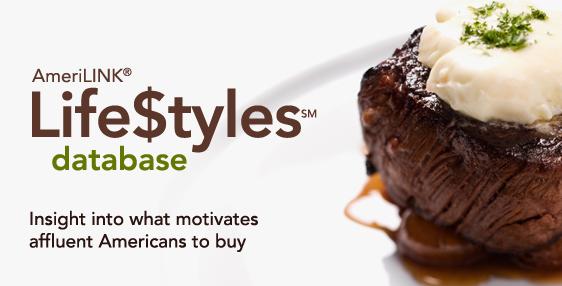 The Life$tyles(SM) Database segments affluent U.S. households with incomes greater than $75,000 into 10 distinct groups based on buying motivations influencing the purchase of discretionary products and services. Life$tyles segments are based not only on how much money affluent consumers have available, but also on their spending behavior patterns. These consumers' spending habits reflect their personal values and attitudes about possessions influencing what, how and why they buy. Life$tyles insights help you target affluent consumers more effectively by framing your message to appeal to each segment's motivators and attitudes. The result? Improved response!


Life$tyles Segments

Unique Life$tyles ... 9,089,906
Trendy Life$tyles ... 9,546,393
Practical Life$tyles ... 6,894,683
Understated Life$tyles ... 3,778,659


Aspiring Life$tyles ... 16,089,572


Precise Life$tyles ... 6,185,953
Traditional Life$tyles ... 18,236,645
Economical Life$tyles ... 9,066,022
Me Life$tyles ... 9,453,521
Popular Life$tyles ... 10,778,552
Click here for an online datacard of the ten
Life$tyles database segments
.

List Buyers: Purchase 5,000 Names. Get 5,000 Names FREE.
Customers who buy 5,000 or more names by Sept. 3rd will receive 5,000 names FREE from our AmeriLINK Life$tyles Database. Call 866-ASK4KBM (275-4526) or email sales@kbm1.com for details.